Wednesday May 17th
U14 Cup Final – Ballingarry 2 (M Molloy, OG) Askeaton 1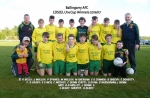 The last underage game of the season produced a fabulous game of football with Ballingarry the better team with justice being done at the death when Ballingarry lifted the cup at the expense of Askeaton in Rathkeale. The first half was even with Askeaton holding the lead at the break form a goal that will have disappointed Ballingarry. Ballingarry had hit the post twice before Askeaton scored and one felt it may be one of those nights.

The second half was a different matter as Ballingarry battered their opponents from the off. A combination of desperate defending, bad luck and wayward finishing kept the Askeaton goal intact. Wave after wave of Ballingarry attacks was looking increasingly like it may end in tears but then as it appeared it was slipping away up popped Mike Molloy to power home a header at the far post to draw the teams level. Extra time loomed until two minutes from time when the ball was driven into the box and one of the Askeaton defender, in a desperate attempt to clear his lines, rifled the ball to the net. It was no more than Ballingarry deserved as they lifted the U14 cup for the second time in their history.
Friday May 19th
Premier Division – Ballingarry 1 (Forde) Athea United 3
A massive blow to Ballingarrys survival hopes as Athea won 3-1 at The Paddocks. Denis Kelly went closest for Ballingarry early in the second half when he almost caught the keeper off his line, this following a goalless first half. Almost immediately Athea scored from a header at the far post from a corner. Kevin Forde equalised with a brave header connecting with a cross from the left. However Athea restored their advantage after Ballingarry lost possession on the halfway line and the visitors broke to score. Ballingarry kept pressing but it was United who got the next goal in the last two minutes to secure all three vital points.
Team: Kenrick, C Kiely, Fitzgerald, O'Grady, E Cahill, O'Connor, Clancy, Forde, Kelly, Smith, F Kiely.
Subs Used: Moore, Ryan, Herlihy.
Sunday May 21st – Survival Secured for Ballingarry
NCW 1 Ballingarry 3 (Donal O'Grady 2, F Kiely)
The curtain came down on the season for the club and with it Premier survival for the junior team thanks to this win at NCW. A goalless first half would saw Ballingarry assume control in the second with goals from Donal O'Grady and Francis Kiely giving Ballingarry a cushion. NCW pulled one back before O'Grady with a second secured all three points and ensured Ballingarry would play Premier football in 2018.
Team: Kelly; Fitzgerald; N Cahill; O'Grady; Clancy; Moore; Herlihy; O'Connor; Donal O'Grady; Ahern; D Kelly.
Used Subs: Ryan; Kiely; O'Callaghan.