When the Munster Football Association was formed in 1922 it immediately introduced a competition for all the junior clubs under its jurisdiction. The competition is open to all junior teams from all the clubs in Munster including B and C teams. The competition is knockout and finishes on the day. When Ballingarry AFC joined the Desmond League in 1984 the league itself held a competition for the clubs in the league with a final offered for the last two teams from the Desmond league remaining in the competition. That was during a time when two teams from the league went forward to represent the league in an open draw and when the first four rounds were confined to local leagues only.
That system changed in the early 1990s to a system where more than two teams progressed thus making it difficult to run a local competition at which point the Munster Junior Cup Desmond Area competition was cancelled. Ballingarry AFC had the notable distinction of winning that competition in 1988-89 when beating Bally Rovers 2-0 in the area final at Newbridge, home of Creeves Celtic.
Ballingarry AFC and The Munster Junior Cup
Winners (Desmond Area): 1988/89
Ballingarrys first ever game in the Munster Junior Cup was in the 1st round in September 1984 against Abbey United (a), a game in which  they registered a 2-1 win. Tommy Cronin and Mike O'Connor got the goals.
Ballingarrys first Munster Junior cup scorer was Tommy Cronin (Pic 2 above)  during their first league cup fixture.
The first team to represent Ballingarry in the MJC was: Noel Hayes; Joe Burke; James Higgins; John Murphy; Noel Forde; James Clancy; Liam Casey; Mike O'Connor; John Clancy; Ned Cagney; James Cronin.
When Ballingarry won the MJC Desmond Area in 1989 for the first time  Liam Fitzgerald (Pic 3 above) was captain.
Ballingarrys first ever meeting with a club from outside the Desmond League was in the MJC when they played Killarney Celtic (0-0 AET lost 3-4 pens) in the 5th round in Ballingarry on 15/1/89.
The first Ballingarry AFC player to score a Munster Junior Cup hat-trick was Steven Kelly v Rathkeale (a) Round 3, 2/1/05.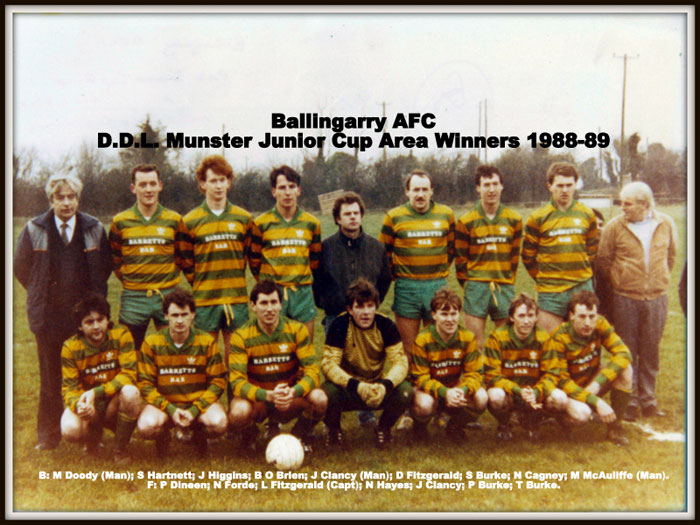 How the cup was won 1988/89
| | | | |
| --- | --- | --- | --- |
| | | | |
| 25-9-88 | Breska Rovers (h) – Round 1 | W 5-3 | N. Cagney 2, P. Burke 2, S. Hartnett |
| 23-10-88 | Foynes (h) – Round 2 | W 3-2 | P. Dineen, P. Burke, L. Fitzgerald |
| 13-11-88 | Broadford United (h) – Round 3 | W 4-1 | P. Dineen, P. Burke, S. Hartnett, J. Clancy (pen) |
| 4-12-88 | Glantine Rovers (h) – Round 4 | W 2-1 | S. Hartnett, P. Burke |
| 22-1-89 | Bally Rovers (Newbridge) – Area Final | W 2-0 | L. Casey, S. Hartnett |