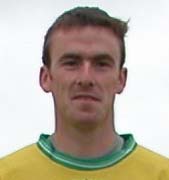 Everyone connected with Ballingarry AFC was shocked and saddened with the news of the tragic death of Joe Scanlon following a traffic accident in the early hours of Saturday morning December 1st last.
Joe played soccer for several seasons with Ballingarry AFC during which time he won numerous honours during their highly successful period in the early 2000s.
He signed for the club in 2001 and played in their Youth team that won the Desmond youth cup for the first time and won the division 2 title. He was also part of their junior team that won the Desmond cup that season also for the first time playing a major part in both successes scoring in both finals.
The following season he was part of Ballingarrys Division 1 league winning team and he followed up that success winning their one and only Premier division with the club in 2004.
Joe was a skillful midfielder with a silky touch who had a great eye for a pass. His pace left many a defender in his wake and for many seasons he was Ballingarrys penalty taker, never failing to find the target from the spot. He added another Desmond cup to his collection in 2007 while another Division 1 title followed with a division 1 league cup in 2008 as Ballingarry won the Division 1 double.
In all he played for seven seasons with Ballingary AFC during which time he won two Desmond cups, one Premier title, two Division 1 titles, one Division 1 League cup, one Desmond youth cup and one Youth Division 2 title while he also played in the Munster Youth Cup semi final with Ballingarry in 2002. He also featured in two divisional cup finals with the club. He also managed the clubs Ladies team for a period.
Following his debut for Ballingarry AFC on August 17th 2001 against Breska Rovers he went on to play 175 games for the club scoring 49 goals. He returned to Granagh United at the start of season 2009-10.
Joe was a gentleman both on and off the field and will be sadly missed by his many friends within Ballingarry AFC. The club wish to extend their condolences to his family and friends and his team mates in Granagh United FC. May he rest in peace.