Munster Youth Cup Semi-final:
Ballingarry v Bridge United,
Sunday August 2nd 2020,
The Paddocks, Ballingarry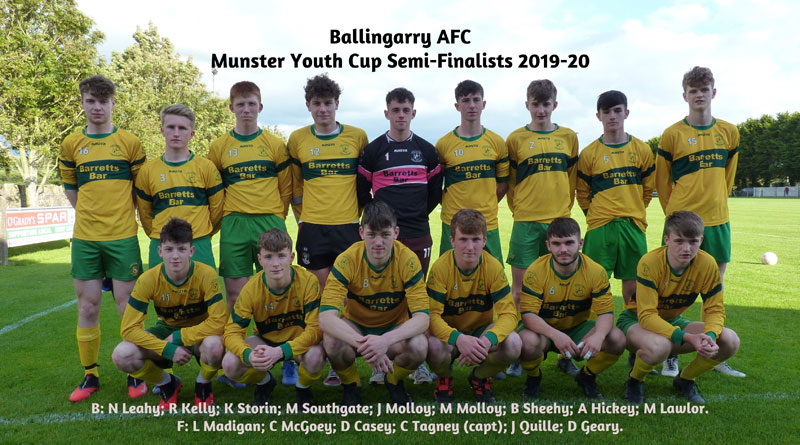 Should Ballingarry claim a spot in the Munster Youth Cup final they will be carrying the Limerick Desmond League flag that was only ever before carried into the final once when Glin Rovers did so in 1984. But to do so they will first have to overcome a formidable opponent in visiting Bridge United from Sixmilebridge in Clare.
Several Desmond clubs have progressed to the penultimate stage in the past including Ballingarry in 2002 but none other than the afore mentioned Glin have graced the final, this Ballingarry side will be desperate to go one step further than that 2002 side and reach the final and face either College Corinthians or Villa who face off in the other semi.
Ballingarry have travelled a difficult path to get to this stage and had to win on the road on four of the five rounds to date to secure this home fixture with the Banner men.
Granagh United provided the first test with the added ingredient of a local derby adding spice to a game that Ballingarry won 3-1 with goals from Mike Molloy 2 and Mike Southgate.
Next up were Broadford United who Ballingarry found to be such a difficult opponent at this age group over the past number of seasons. The 4-1 victory at the very least dispensed with the hex that United held over them during those seasons when they pipped Ballingarry in most competitions. On the mark for the winners that day were Mike Molloy with another brace, David Geary and Darragh Casey.
St Itas predictably provided a stern test in the 3rd round with Ballingarry's Mile Molloy and David Geary helping Ballingarry to pass that particular exam on a 2-0 scoreline,a victory that saw them in the open draw.
On to Waterford where their easier that the 2-1 AET scoreline victory would suggest with goals again form Molloy and Kieran Storin setting them up for an epic encounter in Cork against the holders Carrigaline United.
This game will stand to Ballingarry as they face into this semi-final plus it will have provided an invaluable education to team managers Dean and John Clancy as to the character lurking within this squad.
Finding themselves 2 goals in arrears early in the second half could and in many cases would have seen many a side crumple but not this Ballingarry outfit. They fought back with Storin again on the mark and a first in the competition from Josh Quill with an own goal completing the scoring to level and indeed sent Ballingarry ahead only for the home side to send the game to extra time in the dying moments and when eventually the game needed penalties to decide the boys in Green and Gold displayed courage and character and no little skill in converting their four spot kicks.
Managers Dean and John Clancy will have left nothing to chance in preparing the squad for this game having enrolled experienced coaches Shane Markham and Mike Boyle to assist with the final preparations.
Sunday's game will be an epic historic occasion for the club, unfortunately due to Covid-19 restrictions only 200 people in total will be allowed into the ground with entry by ticket only.
Prediction: This crop of boys in Green and Gold to upstage the class of 2002.