And the Green and Gold go marching on on on…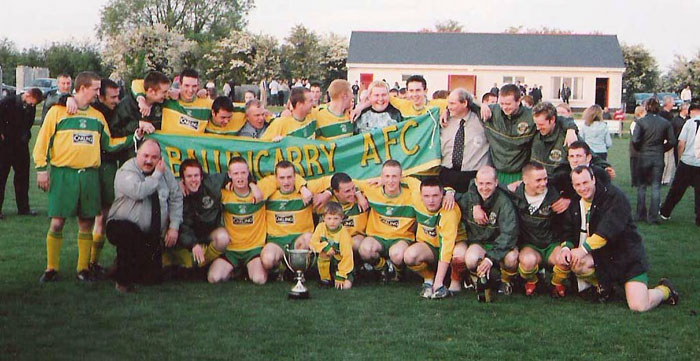 When Ballingarry lifted the Premier Division trophy for the first, and so far, the only time in their history following their 1-0 playoff victory over Rathkeale on the 23rd of May 2004, it was without doubt their finest hour to date. What made it an even more remarkable achievement was the fact that season 2003/04 was their first back in the Premier Division after an absence of seven years, a period they spent in the 1st Division.
At one point during the season they trailed Rathkeale by a massive fifteen points but a run of games that saw them win twelve of their last thirteen matches, nine on the trot, saw them finish locked on 44 points with neighbours Rathkeale and a first ever Premier Division playoff against their rivals.
A huge crowd travelled to Clonreask for what developed into a highly entertaining game with the winner coming eight minutes from time. Scenes of unbridled joy greeted the final whistle before Niall Condron accepted the trophy from league chairman Michael Hanley.
How the League was won
7/9/03 v Killeaney (h) won 5-0
Denis Kellys first ever Premier Division game saw him score his first Ballingarry hat-trick. It paved the way for an emphatic win with Donal O'Grady scoring a brilliant volley and Francis Kiely completing the rout. All the goals were scored during the second half. Little did they know at the time but this was to be the beginning of the dream.
5/10/03 v Rathkeale A (h) lost 1-2
The first of only two losses suffered by the team all season. All three goals were scored in the first half with Noel McNamara scoring in between both visitors goals. Ballingarry played well enough to deserve a draw.
14/12/03 v Shauntrade (a) drew 2-2
Ballingarry never got started and were fortunate to get anything from the game. They had to come from behind twice with first Aidan Barrett and late on Bart Hanley getting an equaliser. Ballingarry had a penalty saved and Donal O'Grady sent off before Hanleys strike. Ballingarry never gave up and deserved a point for their effort.
4/1/04 v Killeaney (a) won 3-2
Ballingarry were down to the bare bones for this hard fought encounter. Aidan Barrett was on the mark again with Joe Scanlons penalty and Denis Kellys goal putting Ballingarry 3-1 up. A late Killeaney second saw Ballingarry hold on for the three points they deserved.
11/1/04 v Newcastlewest (h) lost 1-2
Their second home loss and last of the campaign saw Stephen Kelly inflict most of the damage when introduced as a half time substitute. Darragh O'Grady had given Ballingarry the lead at half time, but it was to be the visitors who controlled the game in the second period with the winner coming two minutes from time
25/1/04 v Broadford United (a) won 3-0
The turning point of the season for Ballingarry with a superb performance leading to them turning over the reigning champions and Desmond Cup holders. Ballingarry went two up inside the opening twelve minutes when Joe Scanlon scored from the spot and then Brian Kennedy with his first goal for the club. United sent a penalty wide just before the break. A brilliantly worked goal finished by Darragh O'Grady saw Ballingarry run out easy winners.
8/2/04 v Rathkeale A (a) won 4-3
With just thirty minutes gone the teams were level at 2-2. Both Ballingarry goals coming from Eoin Kennedy to put Ballingarry 2 up. Aidan Barrett saw red before the break but Ballingarry responded in magnificent fashion to forge ahead again just after the break, Micheal Clancy the scorer. Rathkeale again cancelled out the deficit before they too had a man sent off. With just six minutes remaining Eoin Kennedy completing his first hat-trick for the club, broke the title race wide open as well as confirming Rathkeales first league defeat of the season.
22/2/04 v Kildimo United (h) won 2-0
Ballingarry were never in danger against the team that joined them in the Premier from the first division the previous season. Rory Alymer and Denis Kelly did the business during five first half minutes.
29/2/04 v Newcastlewest (a) drew 4-4
What a game of football between two fine sides with the draw a fitting result. Three times Ballingarry went ahead against a home side reduced to ten men after just thirty minutes. Ballingarry looked to have secured all three points when Donal O'Grady put them 4-3 up with a super strike from thirty yards. But that man Stephen Kelly struck again for Newcastlewest, and like their first meeting earlier in the season, he came on again at the interval to snatch a point with just ten minutes remaining. Two goals from Eoin Kennedy and one from Bart Hanley were the other Ballingarry scorers.
7/3/04 v Abbeyfeale United (a) won 3-0
United finished with nine after two were sent off. Result never in doubt with goals from Niall Condron, Eoin Kennedy and Denis Kelly. Ballingarry were now in the middle of a roll with this result seeing them move into third place in the table.
13/3/04 v Glin Rovers (h) won 4-1
This was as convincing as the scoreline suggests and it could have been much more but for some wayward finishing. Ballingarry had four different scorers on the day in Niall Condron; Bart Hanley; Aidan Barrett; and a penalty from Eoin Kennedy.
21/3/04 v Shanagolden (a) won 2-1
The first of several late late shows as the season wore on. Ballingarry could have been in double figures by the break but instead were all square. Denis Kelly opened the scoring but it wasn't until the 94th minute that Aidan Barrett would get the winner. Nervy but much deserved.
14/4/04 V Kildimo United (a) won 1-0
Ballingarry were always on top but couldn't find the net from some very good positions. Hanleys introduction at the break added another dimension to their game and it was he who set up Eoin Kennedy for an unstoppable effort ten minutes from time.
11/4/04 v Shanagolden (h) won 3-0
Ballingarry eased up to win by just three after going two up in the opening five minutes courtesy of Brian Kennedy and Denis Kelly. Francis Kiely added a third early in the second half. This was the day when the league became a three horse race when Newcastlewest beat Rathkeale 1-0.
9/4/04 v Broadford United (h) won 1-0
Ballingarry never threw in the towel against a better side and kept plugging away until a rare chance presented itself with just two minutes remaining. Aidan Barrett obliged to secure Ballingarry's sixth straight win. With just three games remaining Ballingarry began to believe that they could win the title.
16/4/04 v Abbeyfeale United (h) won 2-0
The visitors made it hard for Ballingarry and it wasn't until Denis Kelly scored the second from Eoin Kennedy's brilliant pass fifteen minutes from time that Ballingarry could breathe easily. Ballingarry had led at the break thanks to Eoin Barrett.
7/5/04 v Shauntrade (h) won 3-1
The visitors made a mockery of their relegated status with a wholehearted display even drawing level just after the restart. Goals from Eoin Kennedy and Bart Hanley, added to Eoin Barrett's first half goal, gave Ballingarry the points in yet another high pressure game.
14/5/04 v Glin Rovers (a) won 7-1
Ballingarry's last league game of the season saw them get off to the perfect start when Eoin Kennedy scored their fastest ever goal after just nineteen seconds. Pat Kenrick added a second from a dead ball situation with Bart Hanley scoring a third to make the second half academic. Denis Kelly got two, brother Brian got his first for the club while Hanley added another. Rathkeale beat Broadford 4-2 to set up a playoff.
23/5/04 v Rathkeale A (Clounreask) play-off won 1-0
Denis Kelly's lone strike after 82 minutes ensured a new name would be on the old trophy. Ballingarry were crowned champions.
Photo Gallery – Desmond League Premier Division Champions 2003/04