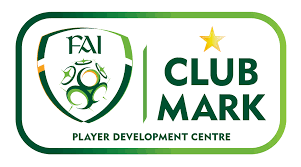 The club is delighted to confirm we have been awarded the Club Mark One Star award. We are the first club in Limerick, the second in Munster and tenth club in the country to receive the award which is a phenomenal achievement.
The FAI Club Mark One Star means the club is now a Player Development Centre which signifies that Ballingarry AFC has an FAI recognised player development plan, an FAI recognised coaching structure working alongside an FAI Coaching Mentor, has demonstrated best practice in child welfare and safeguarding and has the highest standard in club governance.
We would like to thank our coaching subcommittee for the incredible amount of work they have done in achieving this award and in particular our Head of Academy Shane Markham for the work he has done in the past few years in first achieving the FAI Club Mark award and now going to the next level and achieving the FAI Club Mark One Star for our club. We would also like to thank Barry McGann for his guidance and assistance over the past couple of months.
The club is excited for the future of our academy and to improving our players on and off the field.