Most people with an interest in Soccer and living in Ballingarry will know of the connection between the West Limerick village and Hibernian FC in Edinburgh, which is one of Scotland's biggest football clubs. Weaving this connection together there is a fascinating story about one man's crusade to tackle social and cultural issues of the poorer Catholic's in the city of Edinburgh during the second half of the 19th century.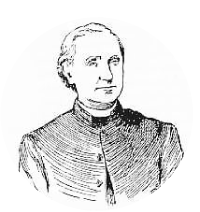 Hibernian or Hibs as they are commonly known as were formed in 1875 by Canon Edward Joseph Hannan who was born in Ballingarry in 1836 and was ordained a Catholic priest in 1860. Following his ordination he travelled to Edinburgh in 1861 on holiday and was persuaded to stay by the bishop to run the recently re-inaugurated St Patrick's parish church. During his long period in Edinburgh he did much to address the social problems of the poorer Catholics in the city and founded a local branch of the Catholic Young Men's Society (CYMS) in 1865, which had been founded in Ireland by his uncle, Monsignor Richard B. O'Brien.
In 1871 he became the priest in charge at St Patrick's. He did much for the inhabitants of "Little Ireland", the Irish community in Edinburgh, centred around the Cowgate area. In 1875, together with the 21 year old Michael Whelahan of the CYMS, and in part to mark the centenary of The Liberator Daniel O'Connell's birth, he founded Hibernian Football Club.
Hannan served as the club's first Manager and as President until his death. Despite only starting as a church club, Canon Hannan did much lobbying resulting in acceptance of the team playing for the Scottish Cup in 1877, only two years after their foundation. He lived in the house attached to St Patrick's Church. He died of pneumonia on the 24th of June 1891.
On Friday January 24th, 2020, five members of St Patricks Hibernian supporters branch, Dougie McLeod, Paddy Power, Stuart McLeod, Brian Duffy & Willie Wilson visited Ballingarry. Here they discussed with Ballingarry AFC, represented by John Cronin, Marie Quaid, Paschal Moynihan and James Clancy, their proposed presentation of a replica mosaic plague, its original significance of the iconic badge and, the original plaque that had been located above the Easter Road Main Entrance of Hibs FC since time remembered. The Harp proclaiming the Clubs Irish routes and the now main reason on returning the iconic Hibernian Harp to its founding fathers' birthplace, Ballingarry.
During discussions which were extremely productive and are ongoing, there was a general agreement that this project will proceed and to target completion, most likely in September 2021. The visiting party were taken on a tour of the locality on Saturday January 25th where they visited local places of interest.
Updates will be posted as the project develops.